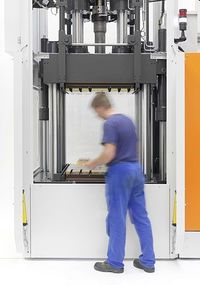 The hydro-mechanical Maplan ergo clamping unit offers an ergonomic operating height and an extensive support to the clamping surface, alongside such advantages of the classical fully hydraulic clamping system as high stability, fast process times by means of separate rapid motion cylinders, maintainability and reliability.
Operating height well below 900mm with clamping force 4600kN allows ergonomic operation, even in case of high tools.
Hydro-mechanical clamping systems are available with clamping force from 1,000 to over 10,000kN. They are available for machines clamping vertically from below.