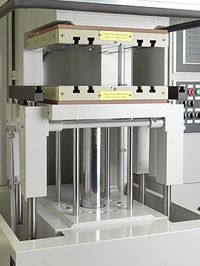 The fully hydraulic clamping unit in combination with a rigid C-frame structure for the disposal of the clamping force gives the operator, by means of tiebarless implementation, free access from three sides and a fast tool change. These installations are used for the production of corner connections, hoses, rubber profiles and small to the smallest molded rubber parts.
Three-sided access to the clamping unit area and different security concepts make the C-frame series the most flexible machine series.
C-Frame clamping systems are available with clamping forces from 150 to above 1,000 kN. They are available for machines clamping vertically from above or from below.
C-Frame machines of the MTTF series allow both clamping from above and injection from the above.
This machine series is currently available in 400 kN clamping force. Other sizes are in preparation.